What's Happening
#CRPD60 Photo Gallery is Looking for Contributors
Together, we have 60 years to showcase. If you have CRPD photos from 1958-2018 we would love to see them.
Selected photos will be shown in the #CRPD60 Photo Gallery at our combined Party in the Park & 60th Anniversary party.
There are 3 ways to submit:
Post on Facebook, Instagram, or Twitter with #CRPD60 hashtag
Attach and send to: communications@crpd.com
Drop off at District Office, 2729 Prospect Park Drive, Suite 230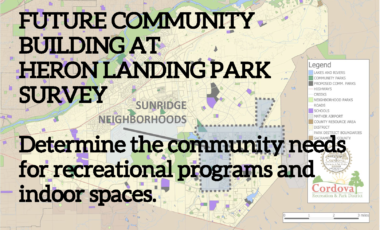 Attention Residents of the Southeast Area of Rancho Cordova: Community Center at Heron Landing Park Survey
Your input will help guide the recreational use of space and design for the future Heron Landing Community Building.
CRPD plans to construct the community center in 2020-2021 to open in late 2021.
Fill out this survey by May 21, 2018.
Submission instructions are in the survey.
We want to hear from people of ALL ages.
Spring Summer 2018 Recreation Guide is Here!
Looking for things to do this Spring and Summer? Look no further, the 2018 Spring Summer Recreation Guide is online and will be in homes the first week of February. The guide has information about camps, new classes and swim lessons. Register today!
Splash Pad at Heron Landing Community Park Closed Until Further Notice
Attention, CRPD community:
The Splash Pad at Heron Landing Community Park is temporarily closed.
In early May, District staff was made aware of several concerns by splash park users at Heron Landing Community Park that the concrete surfacing is too slippery. Park District staff is working to improve the concrete surfacing conditions.
We are working to re-open the splash pad, and hope to do so by Memorial Day weekend. Thank you for your patience!