What's Happening
A Reminder to Make Time for Play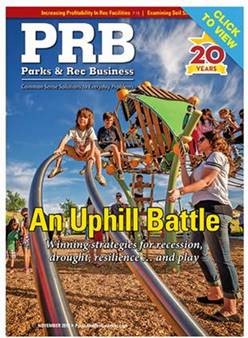 On Tuesday, Nov. 6, Parks & Rec Business (PRB) magazine published a story that details how Cordova Recreation & Park District used conscientious creativity to turn obstacles into opportunity while designing Hillside Park.
The article by Dalton LaVoie demonstrates CRPD's commitment to their mission. "Regardless of financial or environmental challenges, kids and communities need places that inspire us, challenge us, connect us to our environment, and remind us to make time for play," LaVoie writes.
Click the cover image to read the full article!  
A Trifecta of Awards for Heron Landing Community Park
A few weeks ago, Cordova Recreation & Park District added yet another achievement to its repertoire. CRPD received the Innovative Program of the Year award for the "Heron Landing Community Park" project from the California Special Districts Association (CSDA), marking CRPD's third award for Heron Landing Community Park in 2018.
CSDA's recognition of Heron Landing Community Park greatly acknowledges both the park's beneficial impact on the community and demonstration of a 21st century ethic of sustainability, technology and opportunity. In addition, this award honors CRPD's quality of service and responsiveness to a growing community.
Heron Landing Community Park has received three distinguished awards from professional associations, including the California Parks and Recreation Society, District 2 and the California Association of Recreation and Park Districts, all before the park's first birthday. Plus, Heron Landing Community Park continues to be praised by community members. Resident Google postings on the park give it a score of 4.8 out of 5.0 and the park maintains a 5-star review on Yelp.
Check out the video below for a glimpse of award-winning Heron Landing Community Park!
Breakfast with Santa & Holiday Craft Fair
Cordova Recreation and Park District (CRPD) host the annual Breakfast with Santa and Holiday Craft Fair on Saturday, December 8, 2018. There are two different seating times: from 9 to 10 a.m. or from 10:30 to 11:30 a.m. This family friendly event is great for all ages and will be at the Neil Orchard Senior Activities Center.
Bring the whole family for pancakes, sausage, coffee, juice and cocoa! Stop by the holiday craft fair for unique Christmas shopping. Bring the kids to visit Mr. Claus, to share Christmas wishes and take a picture in our festive photo booth. There will be a craft area for children to work on a special holiday project.
Admission: $5 per child and adult (2 and under free)
Would you like to get involved with this event as a sponsor?  Learn more about Sponsorship Levels for the District by downloading the 2018 Community Event Sponsorship packet.
Community Meeting
Cordova Community Pool Replacement Project
The CRPD hosted a Community Meeting on Tuesday, October 23 at 6 p.m. at the Rancho Cordova City Hall to provide an update of the Cordova Community Pool Replacement Project.  We have provided the PowerPoint Presentation from that meeting here.  
If you have any questions, please contact the project manager, Laura Taylor at ltaylor@crpd.com.
Our Supporters & Sponsors