Current Media Mentions and Press Releases
Nov. 2018 – Lyon Local: "24 Essential Holiday Events in the Sacramento Area"
Highlights CRPD's annual Breakfast with Santa event held at the Neil Orchard Senior Activities Center.
Nov. 2018 – Parks & Rec Business Magazine: "An Uphill Battle" by Dalton LaVoie.
Highlights CRPD's conscientious creativity in turning obstacles into opportunity while designing Hillside Park. "Communities need places that inspire us, challenge us, connect us to our environment, and remind us to make time for play," LaVoie writes. Click the cover image to read the full article!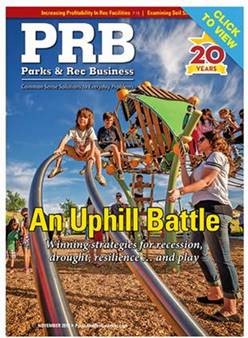 Oct. 2018 – Press Release:  Cordova Recreation and Park District Honored at Statewide Conference
News Broadcasts
KCRA News Broadcast 09-17-16: Doggie Day in the Park
GOOD DAY News Broadcast 04-08-17: Sunriver Park Par Course Ribbon Cutting
GOOD DAY News Broadcast 04-15-17: Hoppin' and Huntin' a Hagan Segment #1
GOOD DAY News Broadcast 04-15-17: Hoppin' and Huntin' a Hagan Segment #2
KCRA 3 News Broadcast 05-17-17: Board of Directors Agenda Item – Cordova Shooting Center 01
KCRA 3 News Broadcast 05-17-17: Board of Directors Agenda Item – Cordova Shooting Center 02
CBS Sacramento News Broadcast 05-17-17: Board of Directors Agenda Item – Cordova Shooting Center Decision Postponed
Archived Media and Community Releases
Media Contact:
Cady Nagy-Chow, Marketing & Communication Specialist
communications@crpd.com
916-842-3318