Park Description
The Hagan Community Barn is dedicated to sharing farm animals with our community and teaching local youth about farm-to-fork principles. For information on volunteering, field trips, and programming please contact Hagan Community Center at customerservice@crpd.com or 916-369-9844.
Barn Tours
Join us Saturdays from 10 a.m. – noon (weather permitting) to meet our farm friends. You will be introduced to our farm animals and learn some brief history about each one. You may bring a picnic and enjoy your lunch at nearby picnic tables in the park.  $1 per person, cash only.
Story Walk with Brownie
Families can visit the Hagan Community Barn to hear an animal story, learn about the Barn's farm friends and take a scavenger hunt or nature walk with staff.
Crafts with Cupcake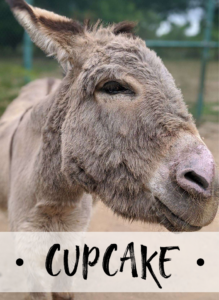 Visit our farm friends at the Hagan Community Barn for a tour and create a holiday craft to take home.
| | | |
| --- | --- | --- |
| Ages: 5-12 |   |   |
| $2 pay at the door, cash only |   |   |
|   |   |   |
| Date | Time | Theme |
| December 4, 5, 11 & 12 | 10:30 a.m. – 2:30 p.m. | Winter Crafts |
Wish List
We love to provide fresh produce for our animals.
Please consider donating any of the following:
Produce: Apples, carrots, romaine or green leaf lettuce, watermelon, pumpkins, squash, red or green bell peppers and mealworm for chicken.
Toys: Yoga ball for Cupcake, partially deflated balls (basketball, soccer ball), cotton rope tied in knots.
Parties at the Barn
Ages: Ideal for ages 4+
Fee: Packages start at $220
Enjoy interacting with our farm friends at your next event! Package includes an all-day reservation at a basic picnic area, one (1) hour in the Hagan Community Barn for up to 15 children, animal meet and greet, a tour of the grounds and craft time with our Barn staff. Schedule your kiddo's next party at the Barn. Call 916-369-9844 or email rentals@crpd.com.
FFA Partnership
CRPD partners with Cordova High School to provide a safe space for FFA (Future Farms of America) students to raise and care for their animals. Cordova FFA is an intracurricular Agricultural Education program that serves the students of Cordova High School, for more information on FFA please contact Cordova High School at 916-294-2450.